How to Record Spoken Word Poetry
Record your own spoken word poetry with Reverb Record. Simply go to the website, click the microphone, record, title, and save. Everything is free and registration is optional.
You can share your poetry with a link, embed it on your blog, or embed it in Twitter. Recordings are made to load lightning fast.
Recording and sharing works everywhere: mobile, desktop, and tablet.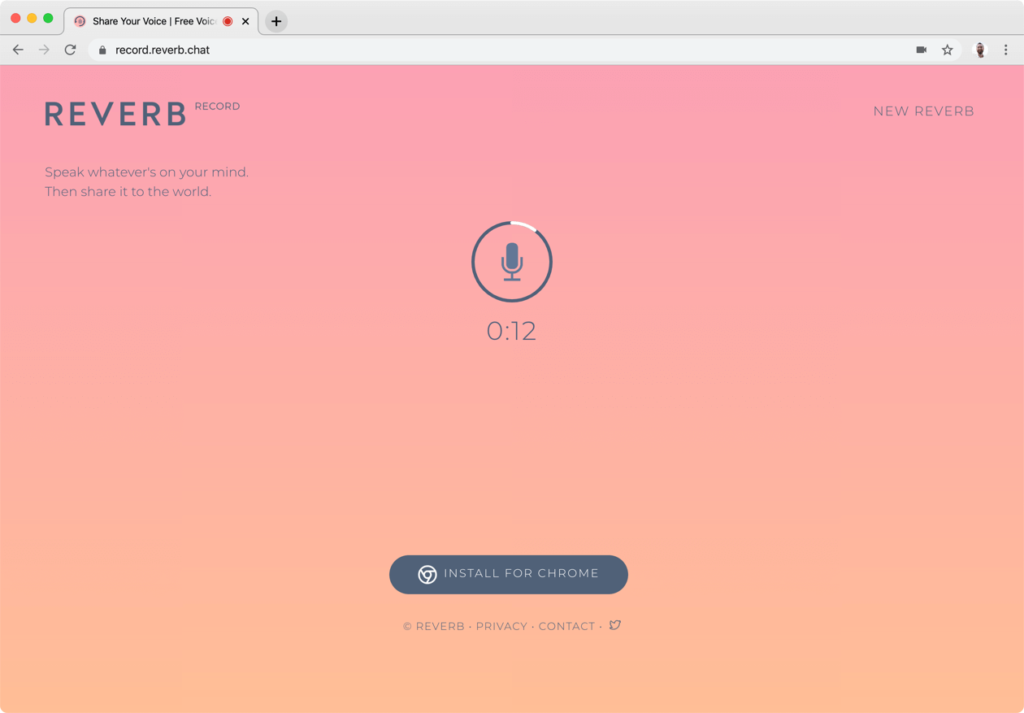 Click the microphone to record your poetry
Click the microphone to start recording.
Make sure to speak clearly and passionately, and to enunciate your words. Record your entire poem or chunk it out and record different verses.
This is the most important part of recording a poem. Spoken word poetry works best if it's either soft and melodic or loud and passionate. Try not to speak apathetically or with a boring tone. Even if you're recording somebody else's poem, it's important to try to speak with feeling.
If you need speaking inspiration, try watching slam poetry on YouTube. For extra confidence, always remember that at the end of the day your voice is unique and to be treasured.
When you're finished recording, click the microphone again.
Give a title to your spoken poem. You may choose to use the title of the poem itself, or add some extra explanation, such as the author and speaker.
Click "save" after you've written a title.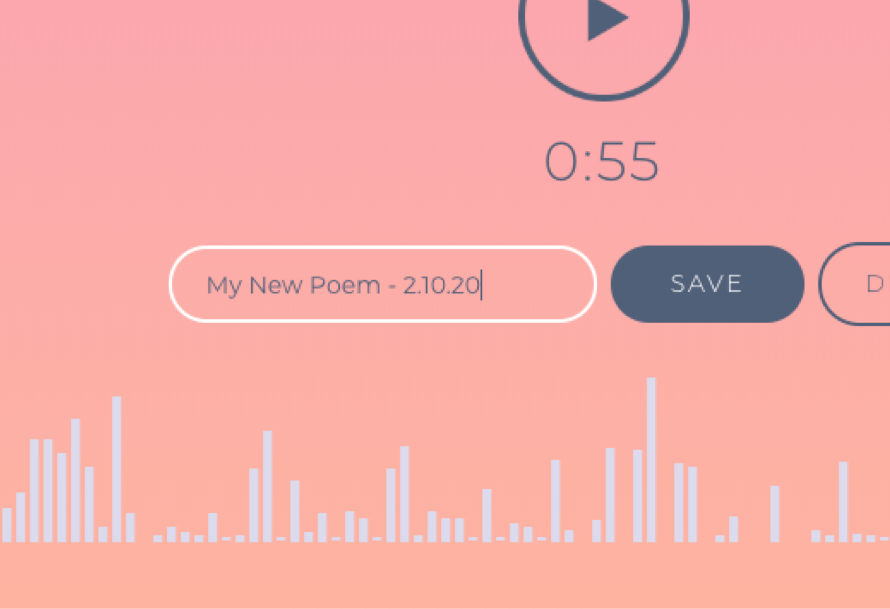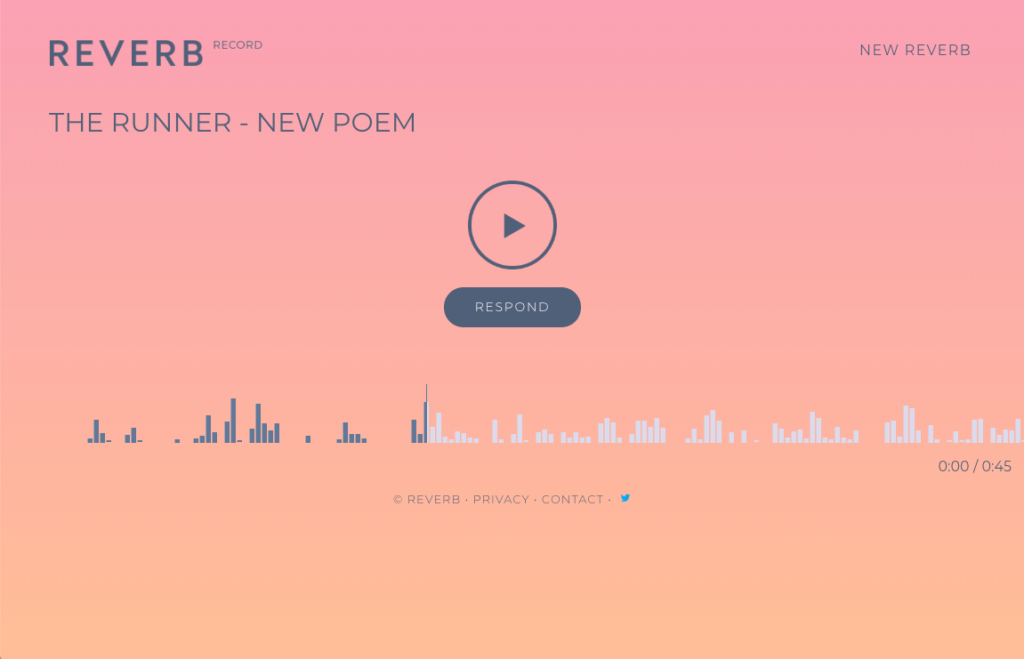 Copy your poem recording link and share with the world
Click "link" to share your poem with anybody. You can share your poetry link in tons of different places:
Email
Twitter, where your poem embeds in a player
With friends, family, and people close to you
Poetry forums
Messengers like Whatsapp, iMessage, and Telegram
Online web portals
Your recording link plays your poem instantly. Share it anywhere!
Embed your poem recording
You can also embed your spoken poetry right into your blog or website for visitors to listen to. Just click "embed" to copy an embed code to paste right to your site.
The Italian poem below, "Carnevale Giramondo," is an example of what embedding poetry to your blog looks like. Click play below and give it a try.
Retitle, go back to, and delete old poems
You can create an account to retitle, go back to, and delete previous poetry recordings.
Accounts are completely optional and with an account your recordings are still anonymous and private.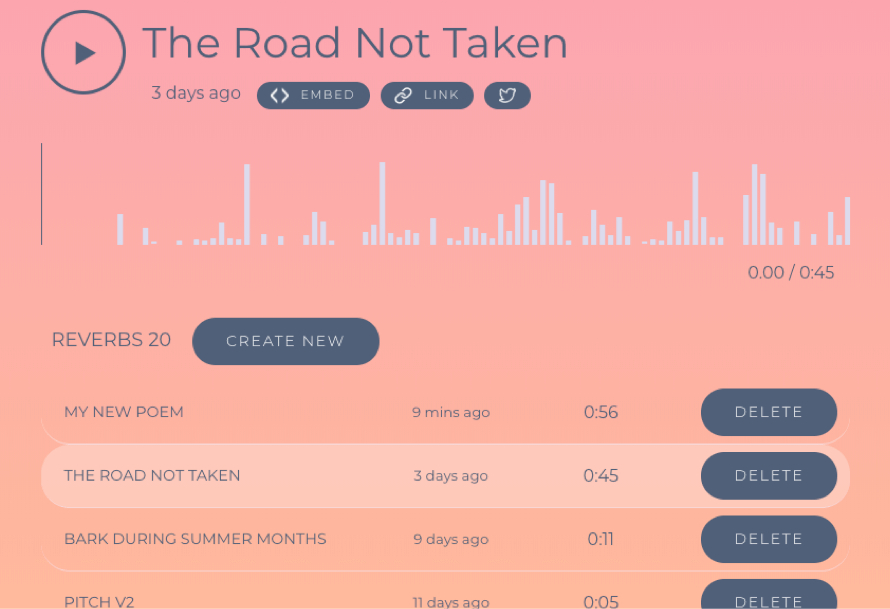 Use the Chrome Extension to record within any platform
Get the Reverb Record Chrome Extension to record without ever having to leave the website you're on.
The extension works the same as the website, but drops down when you click the microphone in your tool bar. AIl recordings save to your Reverb Record account if you have one.
Watch the video here to see the extension in action.
The ideal poetry recording app
Reverb Record is made to be an ideal app for easily recording and sharing. It takes seconds to use and your recordings can be shared anywhere.