Reverb Record is a super simple free cloud based message recorder.
Record messages and send them to friends, colleagues, teachers, strangers, or groups with a link. Reverb Record is entirely online so your messages are stored in the cloud and don't require downloading.
Message links are shareable immediately when you're done speaking so you can share your voice in a ton of places:
Email
Social networking sites:
Professional messengers:

Slack
Microsoft Teams
Skype for Business

Google classroom and other classroom tools
Coworking tools:
Forums and message boards:
Normal messengers:
Even Tinder!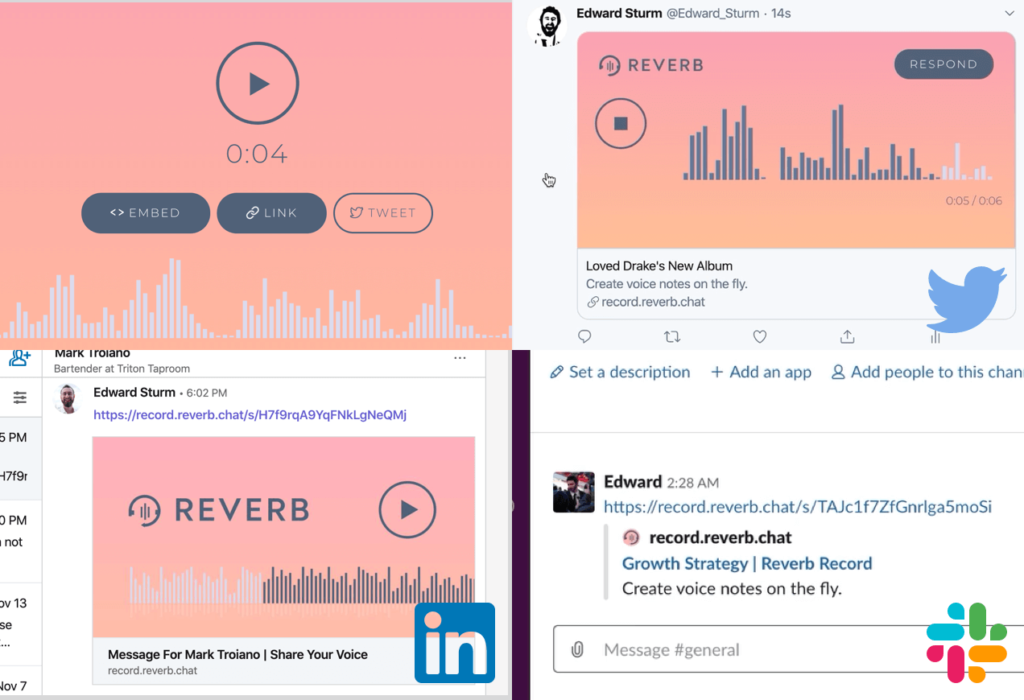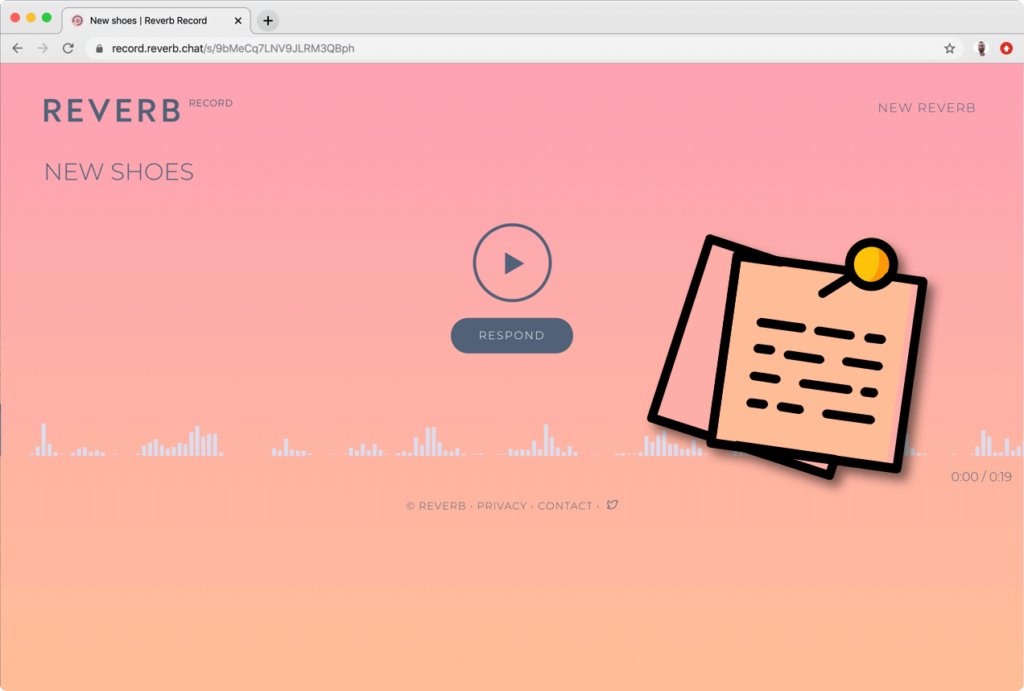 Use your messages to say anything you want, including giving voice notes to people. Reverb Record is fast and simple. It is especially perfect for bite-sized thoughts. You can record up to 10-minutes of your voice and then share that note to anybody, anywhere.
Reverb Record is available in all countries.
Give a title so people click
You can give your message a title so listeners know what it's about and so people you send it to will want to click the preview.
This title will also show in the embed player if you embed a recording on your website.
Using a title is great for Linkedin, Twitter, Slack, Discord, and more.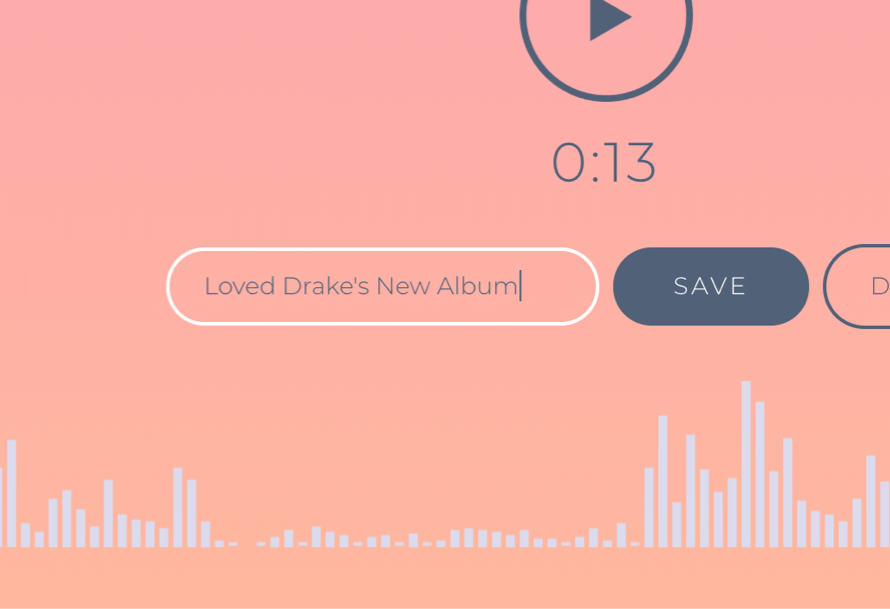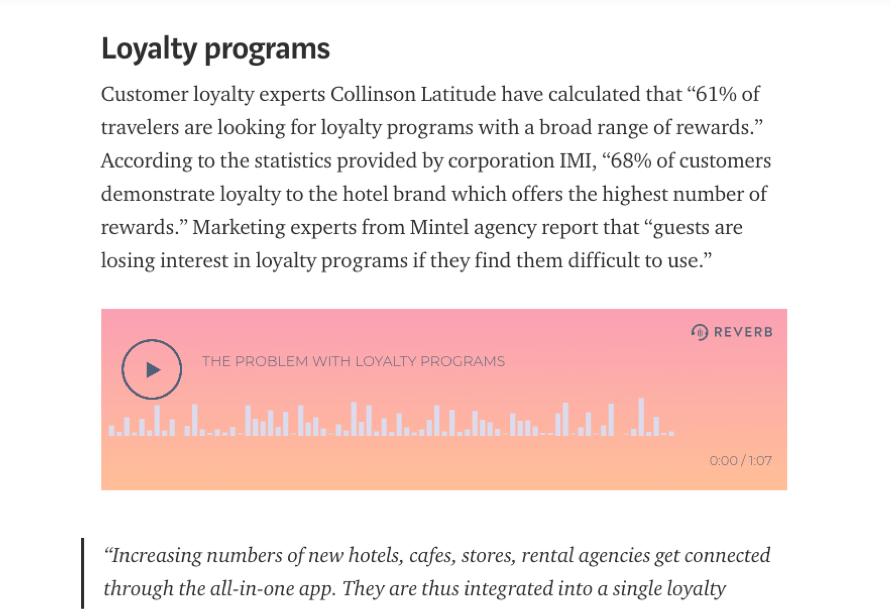 Messages embed anywhere.
Share a link on Twitter, for example, and your voice is available in a player to anybody.
If you share a message link on LinkedIn, a preview is generated along with the title you give it, differentiating yourself from other people sending messages.
If you click the embed button when you're done recording, you get an embed code so that an audio player shows on your blog or website. This can be useful for sharing stories, voice notes, article recordings, or sales language.
Reverb Record is click and go from the start. You don't have to do captcha. You don't have to sign up or give email. All you do is click, record, and share.
If you're somebody who's protective about your identity, you can use Reverb Record anonymously. You don't have to say who you are in your message, so if you send your message anonymously, it will stay anonymous.
If you'd like to go back to old recordings, delete them forever, retitle them, or search through them, you can always register. Everything will still remain private and voice messages will still be anonymous.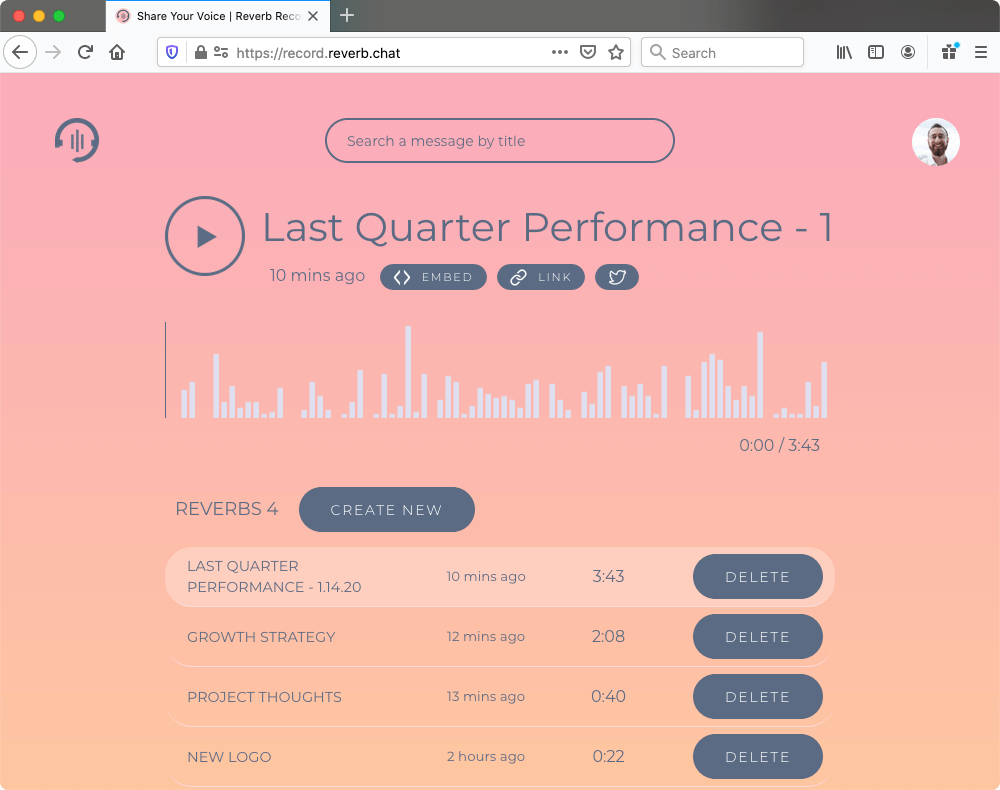 Reverb Record is entirely free, entirely online, and completely instant. Record a message now.