Make and send audio tweets instantly and for free with Reverb Record. There's no registration or sign up required. All you do is record your tweet and post it with a link.
The tweet embeds into Twitter with a player so anybody can hear your voice or any audio you want. Click. Record. Share.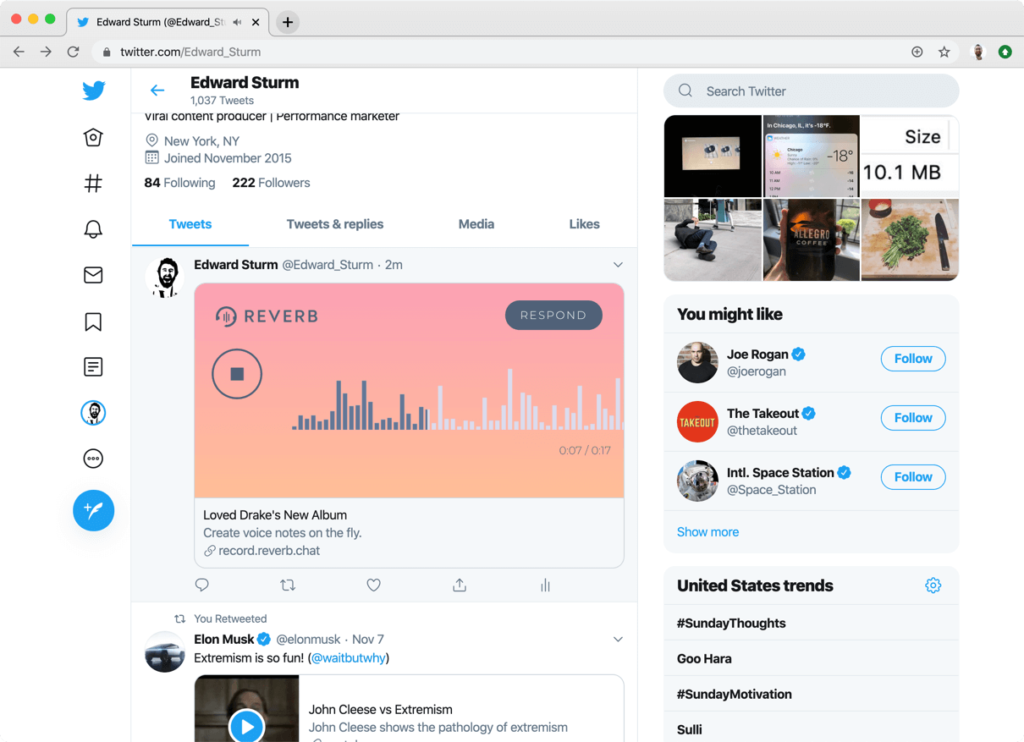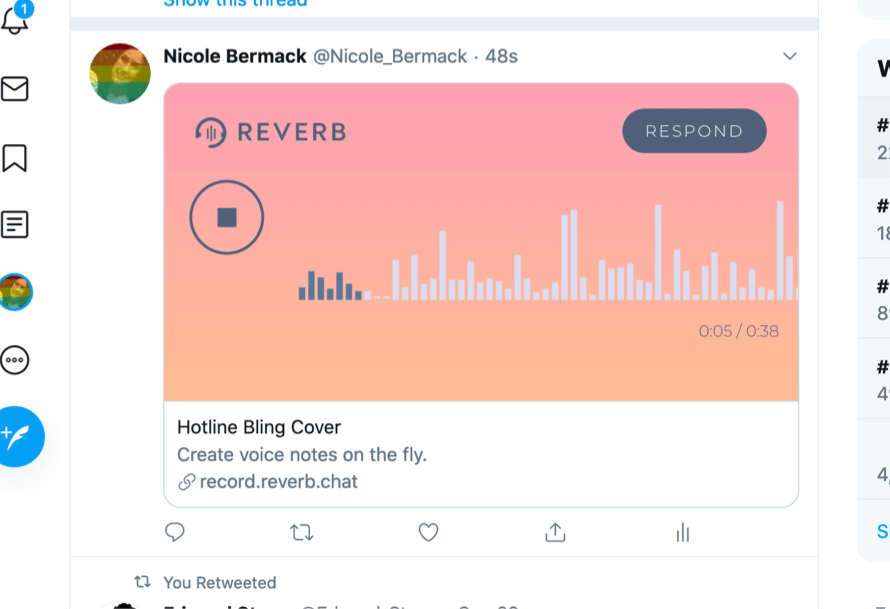 Audio player embeds immediately
When you tweet your recording link, it turns into a player so people can play your audio. The player shows the length of your recording along with a waveform, and gives people the ability to respond with an audio tweet of their own.
The Twitter player auto-plays and for recordings under 8-seconds, loops. For recordings 8-seconds or more, it doesn't loop.
You can share voice notes, your singing, weird sounds, responses, rants, or any random thoughts you have!
No registration or sign up required
There's no sign up, verification, or registration required.
You don't have to give an email address. You don't have to give a name. You don't have to give your Twitter handle. All you do is click, record, and share.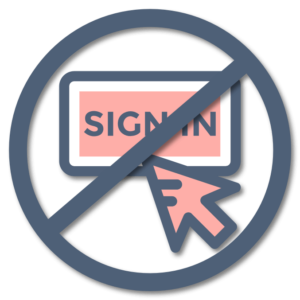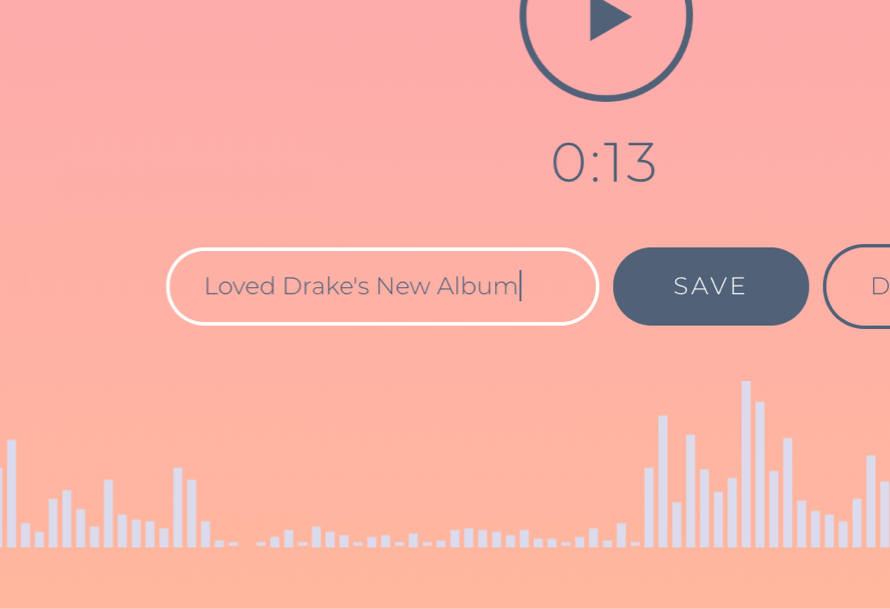 Make sure to title your recording when you're done. Recordings without titles don't get a player embed. Recordings with titles do.
Wondering what title to give? We recommend titles that are mysterious as the title shows up in the preview and helps people to play your recording. It's like making an appealing thumbnail on YouTube.
Just like tweets, titles have a short maximum length, so keep it concise and give a title that makes people want to click!
Send publicly and to handles
You can send audio tweets anywhere and to anyone.
You can make a recording and share it publicly on the Twitter feed. You can also send your audio tweet directly to individual people with their handles like you would any other tweet.
You can share your voice in threads, discussions, or just send nice messages to your followers.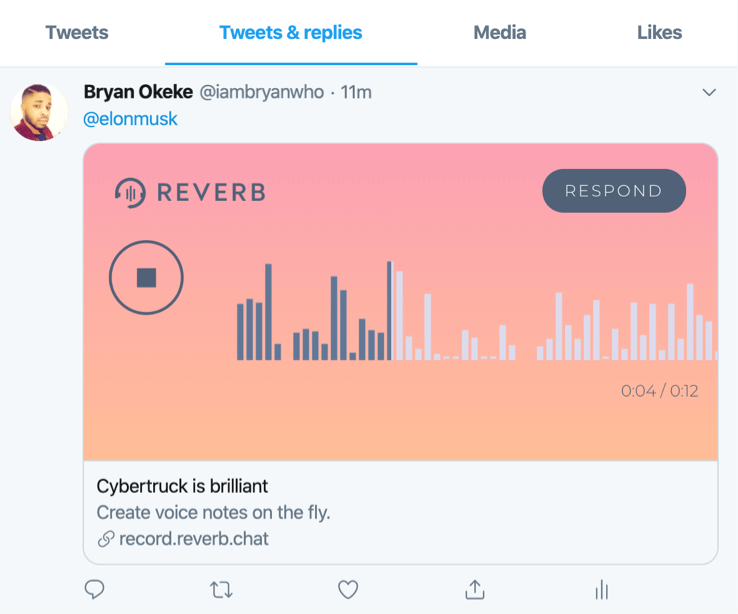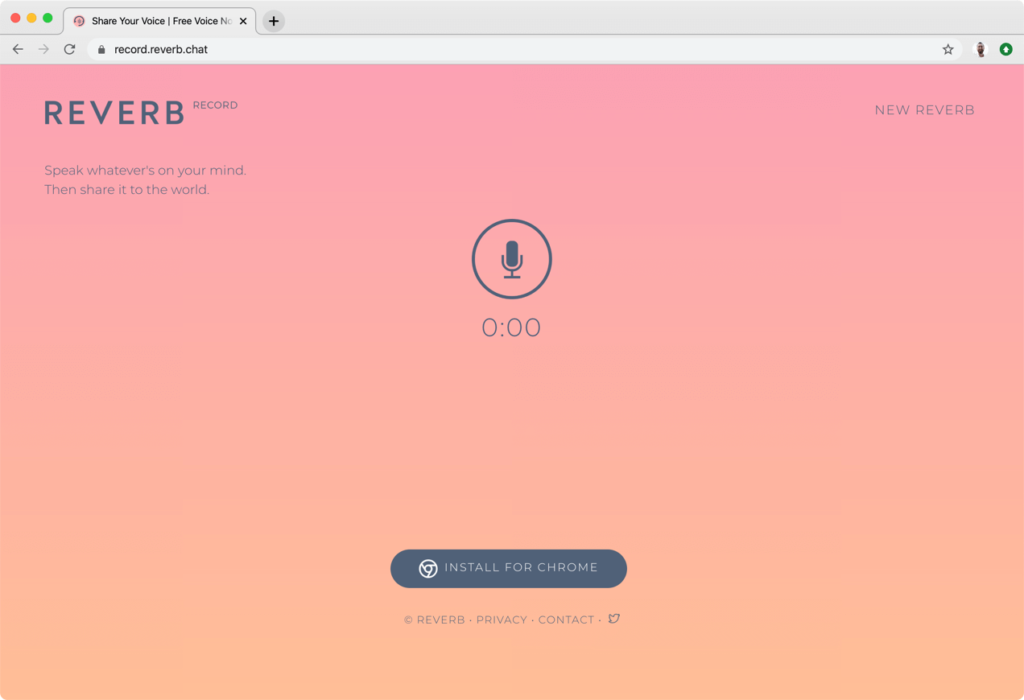 Completely free and online
Record and share for free and without giving any personal information.
Everything is online and recordings are saved automatically in the cloud. You don't have to upload audio or save a recording yourself in order to share. You just go to the website or the chrome extension, record, and share.
Use the Chrome Extension for quick access
Use the Reverb Record Chrome Extension to record audio tweets without having to leave Twitter.
Just click on the microphone like you would any other extension, record, get the link and share right there on the same page you recorded on. The extension makes it so you don't have to leave a webpage in order to record.
It's even faster and easier than the web app.
What are you waiting for?